Predictions from the Past
The Israeli Video Games Industry, Then and Now
I recently came back from GameIS 2013: the annual Israeli Video Games Industry conference, where I participated in an awesome panel with Jesse Sutton, Patrick Pligersdorffer, and Guy Ben Dov on managing game studios. The conference reminded me that 5 years prior, in 2008, I had keynoted the GameIS conference and in doing so, made several predictions for the future of the Israeli video games industry. Figuring 5 years was a good milestone, I decided to pull up the old keynote to see how far off the mark I was on my predictions. Funtactix is a completely different company now than it was in 2008, and I was curious if the rest of the industry underwent this degree of positive change.
Funtactix is a proud member of the Israeli Video Games Industry. Although almost half of our employees are in our US offices these days, the company has strong roots in Israel. The company was started in Israel by Israeli founders.
I actually moved to Israel 5 years ago when I first joined Funtactix, and stayed there for a year and a half until I opened our first office in the states.
When I joined, the Israeli Games Industry was in its infancy. Having an exec from a major US game company move to Israel to join the local industry was a really big deal back then. So much so that they asked me to keynote the annual Israeli games conference. My instructions were to inspire the audience about the potential of an Israeli games industry.
So looking back on the 2008 talk…
Most of it was about lessons learned in my career, as well as notions of how important a strong games industry would be for Israel.

Onto the predictions…
I challenged the audience to consider what they would say in their talk at an Israeli GDC in 2013, following their success in the coming half-decade…
I painted a picture of a Game Developer's Conference in Israel in 2013, with multiple tracks and a thousand attendees, including high-level representatives from abroad: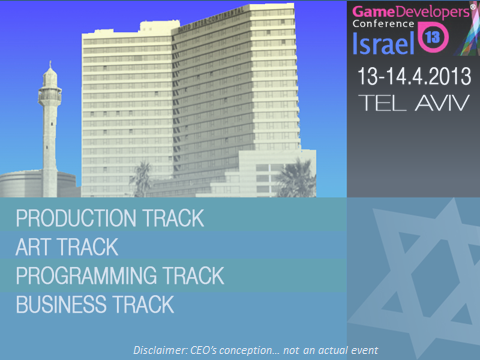 I wasn't too far off on this one.
GameIS 2013 had multiple tracks and roughly 700 attendees – many of whom were from abroad (including 3 participants on my panel). Israel has established itself as a world-leader in several categories – with top games on Facebook, a top-20 publisher on iOS, an award-winning movie-based game studio, and even some inroads on console. Thus, Israeli conferences now attract senior attendees from companies like Microsoft, Facebook, Unity, and others.
The conference wasn't hosted by CMP (which I implied in the logo treatment), and it wasn't held at the David Intercontinental (shown above), but was at a similarly-sized venue in Ramat Gan. A major international game conference network is working on setting up an event in Israel (TBD), so this element of the prediction may still come true in the next year or so.
Other predictions:
The "collage slide" below combined the top gaming companies in Israel at the time, with what were their most likely acquirers: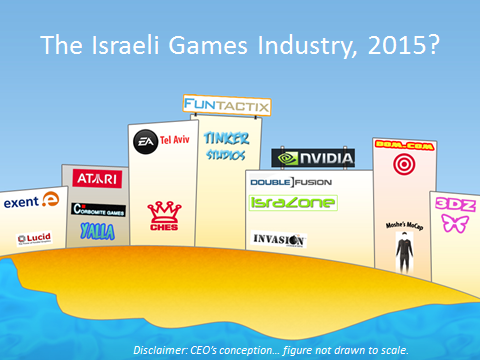 Many of these companies are still around today. Several are gone, but a new generation of even more successful companies has followed.
Atari had a strong presence in Israel at the time, and handled Israeli distribution for a number of other game publishers. The Israeli distributor was sold to Namco-Bandai before Atari's international entity declared bankruptcy.
Doublefusion closed its doors, but was replaced by a new generation of Israeli in-game ad companies like SuperSonicAds
There were a number of hardware-related companies in Israel at the time (AISeek, etc.) that were candidates for acquisition by hardware companies like Intel and NVidia. Intel did end up buying Omek interactive. The biggest piece good news here was Apple's acquisition of PrimeSense for $600M last year.
Moshe's Mocap somehow never materialized. There's still time.
As for the ecosystem itself, most of these were on-point:
Israel is now home to a series of middleware and tools providers, including Kochava, HasOffers, Gingee, and Bees and Pollen – several of which Funtactix is proud to use.
Independent studios like Funtactix, Tabtale, Plarium, and Sidekick games are building titles for major game platforms.
Company representatives – although none of the major platforms and engine providers have full time gaming representatives in Israel, Israel is now firmly defined as a target territory for most account managers in Europe, almost all of whom visit Israel at least once a year. This was unheard of 5 years ago.
Although publicly-traded US gambling companies like Bally's and Caesar's have made Israeli slot game company acquisitions, we still haven't seen an acquisition by a major publisher (although we have seen some strategic investment in the gambling space). I still have a year until 2015, though…
So what's next?
EA Tel Aviv? Although we haven't seen a large publicly-traded game publisher acquire an Israeli game studio, I expect that this will come to pass in the next 12-24 months. So I may need to push out the 2015 prediction by another year. Maybe. When I wrote the slide above, I think I subconsciously assumed that the publisher would be US-based. Now I estimate the chances are equally good that the publisher will be based in Europe or Asia, reflective of the shift of the global industry in the past 5 years.
3D Camera/VR Ecosystem – As 3D cameras make their way beyond the Kinect into mainstream consumer devices like phones, this will herald a new category of games and game mechanics. I hope that as leaders of the hardware innovation in this vertical, Israel can incubate an ecosystem of innovators in software and content for these devices. Combining Kinect cameras with VR headsets like the Oculus have demonstrated some tremendous new scenarios for game immersion and human-computer interaction – hopefully Israel can enjoy its own slice of the 'VR boom'.
Broader Recognition – As Israel wins additional awards like Webby's, and earns international consumer recognition for its brands, we can expect Israel to be further recognized as a hotbed for gaming innovation.
More predictions to come in future posts…